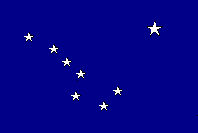 The North Star has played an important role in human culture throughout history. It is a conspicuous star in the northern hemisphere, and has been used by navigators throughout recorded history for charting navigation routes on land and sea. The North Star helps them find their way. Many different Navigators. Many different destinations. One common guide. It is for this reason the mascot name for North Star High School is the Navigators.
Mission Statement
Lincoln North Star High School is committed to developing academic excellence, positive relationships, and productive citizens.
Logo
The school logo is the letter N formed by a fluid forward motion of two separate arcs. Together they signify leadership, strength and the ability to move into the future.
NaviGATOR
Navi-Gator is our school mascot.
Colors
Traditionally Navy Blue, North Star's primary color, is the color of constancy and faith and is symbolic of the sky and the oceans. Blue represents the ideals of the ancient navigators using celestial navigation to guide their ships to explore and reach new boundaries. Burgundy, our accent color, is symbolic of power, leadership, ambition, education, and respect. It represents the goals and ambitions of North Star High School students, faculty, and families to prepare future leaders and pillars of our community.
Foundation Statement
NORTH STAR HIGH SCHOOL will guide students and staff to…
focus on academic achievement and success for all students
ensure a welcoming, safe environment for students, staff and families
embrace a respect for diversity
demonstrate self, and shared responsibility
promote open and honest home and school communication
participate in activities, promote high standards and a healthy life style
develop a sense of community among students and staff
provide a safe environment for discussions of differing perceptions
create partnerships with community members to develop values of serving others
North Star Philosophy
The North Star High School philosophy is based on having high expectations for ALL students. We value and appreciate diversity. We will promote and create personalized opportunities where each student is actively engaged in their education. We will provide active collaboration between students, teachers and the community that creates a seamless integration of school and real world learning. North Star High School will prepare each student to live and work productively in a modern global society.
School Song
'GATOR PRIDE

Chart the course the Gators choose.
Play the game, win or lose.
Emblem shining in the night,
Guides us all to truth and right.

Always constant, always new,
Set the standard maroon and blue.
Build the future, lead the way,
Seek the North Star day to day.

Chart the course the Gators choose.
Play the game, win or lose.
Emblem shining in the night,
Guides us all to truth and right.

Navigators hold in sight,
North Star and the shining light.
Work together, keep your stride.
Standing tall with Gator Pride.

Chart the course the Gators choose.
Play the game, win or lose.
Emblem shining in the night,
Guides us all to truth and right.
Download a printable copy of the school song.
The Legend Begins!
Spring of 2000: Lincoln passed a $100 million school bond for the purpose of building two new comprehensive high schools.
November, 2000: North Star High School was named following a student vote and LPS Board of Education approval.
December, 2000: Dr. Nancy Becker named principal of North Star.
March, 2001: The North Star Identity Committee met to establish North Star's "identity."
June, 2001: The office of North Star High School was established at Campbell Elementary.
September-October, 2001: Instrumental students from Goodrich, Culler and Dawes Middle Schools assisted in the selection of the marching band uniforms.
January, 2002: The hiring of administration, faculty, and staff began.
August, 2003: North Star opens it's doors to 1150 students in grades 9-12 and 250 students in grades 6-8
June 2004: North Star Graduates it's first class – The Graduating Class of 2004!
Lincoln North Star School Seal